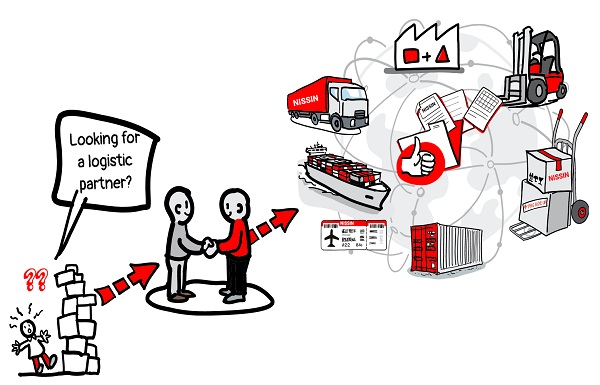 ---
What Are Logistics Services?
In business, one often hears the term 'Logistics Services.' For companies whose core activity is selling products, it is very typical to appoint 3rd-party logistic services to reach their products to their market.
But what are Logistic Services? What role do they play? 
In the business context, logistics services form an integral part of the supply chain operations that include:
The movement of merchandise from the factory to the warehouse,
Storage of the merchandise at the warehouse or the fulfilment centre,
Systemising order fulfillments,
Arranging outbound shipment and finally
Delivering products to the end consumer.
As easy as it may seem, each stage of the supply chain operations presents diverse challenges. Whether you are an eCommerce enterprise or a traditional manufacturer, hiring a good Logistics Services provider like Nissin is vital to ensure the smooth flow of your supply chain operations best suited to your needs.
At Nissin, our extensive know-how in handling merchandise in diverse sectors and business formats (B2B and B2C) make us one of the most successful and reliable logistics solutions providers worldwide.
Our services include: 
Freight Forwarding:
At the domestic or international scale, we provide complete, personalised and cost-effective shipping solutions to manage the transport of your merchandise in multiple containers (FCL) or smaller loads (LCL), whether it's by air, sea or road, depending on the needs of your organisation.
For more information on freight forwarding, please read our article: What is freight forwarding? 
Managing Inventory and fulfillment:
For all kinds of businesses, especially eCommerce, inventory management and fulfilment planning becomes difficult without a professional logistics services partner. With the help of our network of warehouses worldwide, we can offer you the warehouse space for a diverse profile of merchandise ranging from regular or valuable cargo, temperature-sensitive food of pharmaceutical items or even dangerous and explosive materials. Besides our top-of-the-notch storage spaces, we can provide you with specialised services thanks to our reliable partners.
Removals or Relocations:
Our logistics services are not only sought after by the trading community but also by companies looking to relocate their workforce or even individual members of their organisation. If you are an ex-pat, we ensure flexible and smooth management of transporting your furniture and household items from packaging to unloading and installation to set up your new home as your logistics partner.
When it comes to transporting your merchandise, you need a partner that understands the nature of your business and its specific requirements. At Nissin, our philosophy is to provide fair, flexible and personal transport and logistics services with constant improvements to satisfy our customers. With years of experience, we can expertly handle urgent shipments, adapting quickly to organise delayed shipments with thorough compliance with different regulations.
To learn more about how we can help you develop your international trade operations, contact us at +3227514499 or write to us at HowCanIHelpYou@nissin.be.