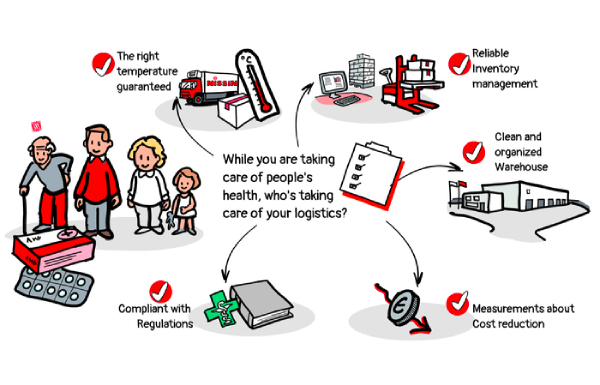 ---
Tips for Choosing the Right Pharma Logistics Services
As more and more individuals resort to pharmaceuticals to treat their various illnesses and afflictions, its revenue grows year after year. Prescription drugs are now almost an unavoidable expenditure for most families.
The pharmaceutical sector has high requirements and specific logistical issues that must be met. There has been a dramatic increase in the need for competent pharmaceutical logistics providers to manage the unique problems during pharmaceutical logistics. As the stakes in the pharmaceutical supply chain process rise, so does the importance of selecting the proper logistics firm.
Because pharmaceuticals are in the health care industry, they must comply with all applicable health and safety rules and laws. As a result, it is crucial to find a logistics business that can handle these issues, such as assuring product integrity and monitoring temperature. The pharmaceutical logistics supplier is responsible for ensuring that the items arrive in pristine condition.
Here are some tips that help in choosing the best pharma logistics services for an organization:
1. THE TEMPERATURE ASPECT
Because most drugs and medicines must be maintained at the proper temperature to maintain their potency and efficacy, the first thing to look for is records that indicate temperature readings overtime for that logistics business. The next step is to ensure the organization can maintain a specific temperature if the current heating or cooling system fails. Finally, it's worth noting how the firm monitors its reefer trucks.
2. THE INVENTORY ASPECT
The pharmaceutical sector relies on inventory management. Thus, finding out how many of their clients need selecting according to FIFO, FEFO, and other concepts is critical in choosing a service provider with expertise in the pharmaceutical industry's various packaging methods. In the end, it should be asked to examine a sample to understand how the WMS records a specific code date or other indication.
3. CHECK THE WAREHOUSE
An inspection of the pharmaceutical logistics company's warehouse to see how well it is kept clean and organized should be attempted if feasible. Additionally, whether the storage facilities have adequately sealed doors and containers should be checked.
4. COST REDUCTION
The pharmaceutical transportation business should be questioned about ways to reduce costs. WMS should be examined, and issues such as how the firm reduces energy expenses and evaluates worker productivity should be asked. It's not a good indicator if there isn't any measure in place.
5. REGULATORY REQUIREMENTS
In addition to regulatory constraints, pharma logistics services also need to meet the needs of its clients. It should be inquired about the company's compliance with the FDA, the Department of Public Health, and AIB certification. Pharma logistics services should be able to comply with all documentation and labeling requirements due to the industry's high level of regulation.
There is no question that the logistics of the pharmaceutical industry are complex. For the supply chain to be free of delays and snags, the 3PL supplier must have extensive knowledge and experience in these areas. The best way to guarantee that your operations are legal and lucrative is to work with experienced 3PL businesses such as NISSIN.
Nissin's role as a third-party logistics provider includes making certain that all these services and others associated with logistics run well. But we've developed our time management and organizational abilities to the point where we can handle this. Nissin offers a local, flexible, and personalized approach to servicing you. To fulfill rules and maintain product quality, temperature-controlled transit is essential.
You can count on Nissin for temperature-controlled pharmaceutical logistics, whether you're moving through air, water, or land. Only the most advanced tools and equipment with temperature and humidity controls are used in our projects. Deliveries are made to precise locations and are kept at a constant temperature.
We'll treat your belongings with the utmost regard and concern, no matter where they are.
To learn more about what Nissin can do for you as a third-party logistics (3PL) supplier of pharmaceuticals, don't hesitate to contact us at  +3227514499 today.