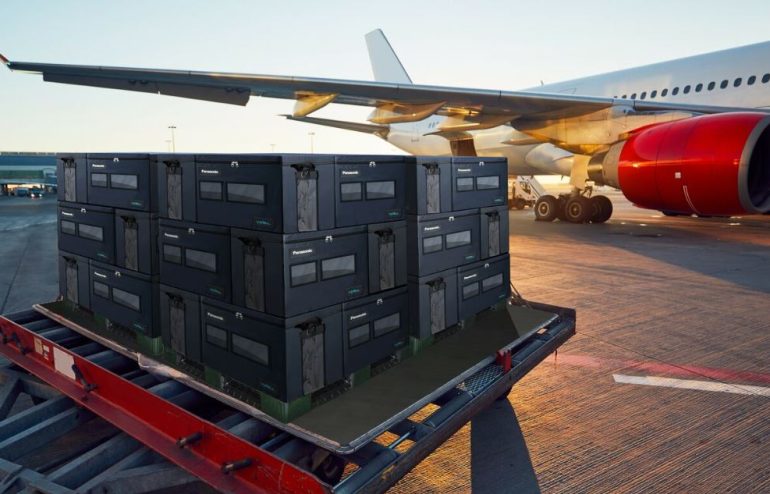 ---
Nissin Europe supports the pharmaceutical logistics exhibition, Logi Pharma 2023, where Panasonic Group is exhibiting.
As a logistics partner of the Panasonic Group (hereafter referred to as Panasonic), which offers VIXELL, a vacuum-insulated cooling box for pharmaceutical transportation characterized by high quality and durability, Nissin Europe will provide exhibition support at LogiPharma 2023 in Lyon, France, from 25 to 27 Apr 2023.
The  VIXELL is a vacuum-insulated cooling box provided by Panasonic, which is superior to the Single-Use BOXes commonly used in pharmaceutical transport in terms of durability, insulation and cold storage performance.
In addition, as the boxes can be used repeatedly, they can be collected and reused by Panasonic after transportation, thereby contributing to a sustainable society.
Nissin Group has more than 30 years of experience in handling pharmaceutical products, and it has obtained GDP certification in Germany, France and Belgium, which sets quality management standards for the distribution of pharmaceutical products.
As a strategic partner of Panasonic, Nissin will provide a one-stop service for international transport taking advantage of VIXELL.
LogiPharma2023 is "The World's Leading Life Sciences Supply Chain Event".  We hope that many people will get to know VIXELL and our global services.  More information about the exhibition is as below.
https://logipharmaeu.wbresearch.com/
About Nissin:
Nissin Corporation is a Japanese comprehensive international logistics company that handles a wide range of logistics including ocean, air, rail, truck transport, as well as warehousing, moving, and customs clearance. It has a network of 24 countries and more than 150 overseas offices and provides logistics services that meet the needs of our customers around the world.
Nissin has over 30 years of experience in handling pharmaceutical products. It has obtained GDP (Good Distribution Practice) certification in Germany, France, and Belgium, which sets quality control standards for pharmaceutical distribution. Nissin has already obtained GMP (Good Manufacturing Practice) certification in Japan, and is in the process of obtaining GDP certification.
About the Panasonic Group
A global leader in developing innovative technologies and solutions for wide-ranging applications in the consumer electronics, housing, automotive, industry, communications, and energy sectors worldwide, the Panasonic Group switched to an operating company system on April 1, 2022, with Panasonic Holdings Corporation serving as a holding company and eight companies positioned under its umbrella.
Founded in 1918, the Group is committed to enhancing the well-being of people and society and conducts its businesses based on founding principles applied to generate new value and offer sustainable solutions for today's world.
The Group reported consolidated net sales of Euro 56.40 billion (7,388.8 billion yen) for the year ended March 31, 2022. Devoted to improving the well-being of people, the Panasonic Group is united in providing superior products and services to help you Live Your Best.
To learn more about the Panasonic Group, please visit: https://holdings.panasonic/global/
For inquiries about our pharmaceutical business in Europe, please contact
Nissin Belgium NV   International Freight Forwarder & Logistics | Nissin Belgium
or